Sewage Treatment Equipment
Contact Us
Guangzhou Longkon Eco-Tech Limited

FRP water level raising up pump system
Update Time:2015-02-07 14:21:28
Prefabricated pumping station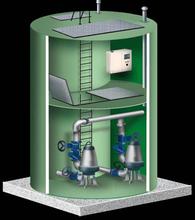 water lifting pump system
Longkon integration precast pumping station in order to solve the urban rainwater collection and drainage as well as the design of urban sewage ascend.
Prefabricated pump station as the main body in the buried structure, the pump station by the glass fiber reinforced plastic shaft, submersible sewage pump, automatic coupling device, pipelines, valves, liquid level sensor, control system, grille and ventilation system and other parts.
Is an easy to use, reliable, and less civil work, lower cost of new integration pumping station equipment, can be used as a substitute for small and medium sized concrete pump station, prefabrication pump station system, the pumping station can overcome all the shortcomings of traditional concrete pumping station, and the most significant characteristic is to optimize the volume of the pump station, so as to overcome the shortcomings of traditional concrete pumping station.
Application range prefabricated pumping station
1. Living community or collection and transmission of polluted water of a rural community
2. Urban sewage treatment plant sewage collection and transportation
3. The low-lying city rainwater collection and transportation
4. The municipal sewage pipe network construction and retrofit
5. The old pumping station renovation and expansion
6. A lake water cycle
Applicable to collect and discharge of residential area, restaurants, schools, factories, troops barracks and other public places of sewage wastewater, etc., mainly installed in the outdoor ground, also can be used for indoor places.
The performance parameters:
Prefabricated specifications for pump stations
Wellbore diameter series: 1200, 1200, 2000, 2400, 2800, 3200, 3600, 3800 mm
Shaft height: H = 2000-18000 - mm
Maximum flow: 4500 cubic meters per hour
Maximum pump power: 120 kw
Voltage: 380 v
Model: LKBZ - Q - N
LKBZ Long Kang pump flow pumping station Q N pump power
Integration of prefabricated type pump station features and advantages:
1, small size, but can use effective volume is good;
2, cylinder adopts advanced corrosion resistant materials such as reinforced plastic machinery winding;
3, the fluid pump pit design, have a good flow pattern, no congestion, self-cleaning function;
4, quality reliable, light weight, low cost;
5, equipped with high quality, high performance of submersible sewage pump, the wide application of sensors constantly monitor the running status of pump greatly reduces the maintenance cost;
6, high automatic level of integration, can realize the long-distance monitoring and management, can also realize mobile phone monitoring, as well as remote data transmission and reality generated automatically run the report more functions;
7, the use of safe, its reasonable design greatly reduces the toxic and odorous gases, protect the environment;
8, security buried installation, after installation does not affect the surrounding environment and landscape;
9, short installation period, saves much cost, maintenance time;
10, one-time investment, operation cost is low for a long time, obvious energy saving benefit, and in case of demolition or the covers can be secondary lifting up again for a second landfill use;
11, completely custom, every time can be different according to the engineering, design of different diameter and different height of pump station in and out of the water pipe position, meet the needs of a variety of places.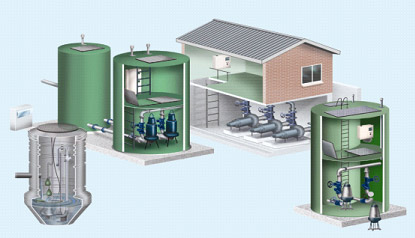 The composition of prefabricated pumping station
(1) in general, the pipeline buried depth should not be more than 5 m, otherwise must set up the pump station to improve the water level.
(2) : water pump accessories.
Accessory equipment including collecting basin and grille.
The classification of the precast pumping station
According to the ascension of the different nature of wastewater, can be divided into:
(1) the sewage pumping station
(2) the rain station
(3) the confluence pumping station
(4) the sludge pump station
According to its location in the drainage system, and can be divided into:
(1) local station
(2) the way station
(3) terminal station
Prefabricated pumping station selection order must provide the data:
1. The pump station into the flow rate Q (cubic/hour), maximum flow variation coefficient;
2. The number of water pump and head, one with a case or two with one case;
3. The outdoor ground elevation H0 (m), also can use relative elevation + / - 0.00 (m)
4. The inlet pipe external diameter DN and winning high H1 (m);
5. Outlet pipe external diameter DN and winning high H2 (m);
6. Internal piping material: stainless steel SUS304 or hot dipped galvanized pipe fittings;
7. Liquid level sensor, pressure sensor, floating ball, ultrasonic liquid level sensor;
8. Control system, automatic level control, manual control, remote control;
9. Chooses grille type, or smash basket gratings;
Electric cabinet form, rain control cabinet or outdoor landscape type management.
FRP prefabricated pumping station
Prefabricated integration of rainwater pump station features:
1. According to the customers' need to customize
Each set of prefabricated pumping station can be designed according to the data provided by the customer, to ensure the operation condition of pumping station meets the requirement.
2. High strength composite materials
Prefabricated pump cylinder adopt computer control continuous winding glass fiber, ensure uniform thickness and meet the design requirements, and ground soil pressure and dynamic pressure, excellent quality is stable.
3. The standard accessories
Prefabricated completed all parts within the plant, including the pressure piping, maintenance platform, in and out of the water, tested before delivery to ensure reliable quality of the fittings.
4. A highly integrated
Prefabricated pumping station as an integration equipment, complete sets of offer: pump cylinder, pressure piping and equipment platform, overhaul, grating device, coupled distillation system, ventilation, prevent slippery manhole covers, etc.
5. Good appearance
Prefabricated pumping station all buried in the ground, the ground with manhole and control box, also optional landscape type management room on the ground, in harmony with the surrounding environment.
6. Cost savings
Pump station for complete sets of supply, all internal installation and debugging work to finish in the factory, the only need to install the pump station as a whole, and greatly reduce the construction cycle and project cost, reduce the owner's overall investment.
The service life of the 7.
Pump barrel is made of glass fiber reinforced plastic composite materials, internal use SUS304 and hot dip galvanized anti-corrosion materials such as accessories, no need maintenance, normal service life can reach more than 20 years.
8. Simple maintenance
Pumps and grille all equipped with guide rail, can quickly dismantled when maintenance and installation.
9. Function extension
Prefabricated pumping station can be used with our rainwater collection form a complete set of processing equipment, build a complete system of comprehensive utilization of rainwater.
Integration of prefabricated pump performance
Patented pump pit, the design and the design of the old pump pit, compared to finally determine the design of the pump pit, we have done a lot of experiments, and research and analysis of parameters.
Before self-cleaning pump final pit design, we also for many coefficients were evaluated, such as the spacing between the ground and the distance between two adjacent pump, etc.
The integration of precast pump station
Standard pump pit design life of 30 years, flat pump pit ground easy accumulative solid matter
Pump pit design with the integration of the discharge connection.
Slope structure can ensure that achieve high flow velocity, and thus produce eddy current, make the solid suspension again, to greatly improve the solid conveying capacity
1600 mm conventional pump pit of sediment.
Solid material accumulation cover the whole surface of pump pit.
100 pump pit of sediment.
Only a small amount of residual solid accumulation near the discharge connection
Keep pumping station cleanliness
As the world's leading manufacturers of submersible pump and fluid handling technology suppliers, can provide you all needed for the pumping station construction and operation
Although pump pit has self-cleaning function, but also recommend the accessories for you to keep pumping station cleanliness.
Can be used to retrofit and upgrade
Turnkey concept is an ideal solution to the old pumping station renovation, can use the TOP solution toolkit retrofit renovate your old pumping stations.
Can be installed in the existing structure, the required quantities are very small, and without increase in mining.
Retrofit renovated TOP pumping station can greatly reduce for you urgent repair service costs and maintenance costs, and reduce your operating costs.