Septic Tank
Guangzhou Longkon Eco-Tech Limited

FRP Septic tank -construction
Update Time:2015-02-03 16:14:52
FRP Septic tank -construction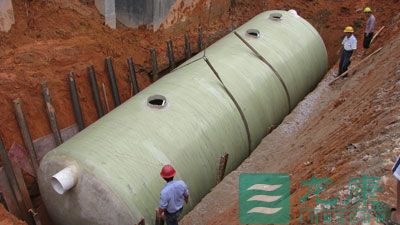 Specification
Principle of Septic Tank Application
Used in homes, apartments and industries .
the
FRP Septic Tanks/
frp biogas anaerobic digester / methane tank
is of high demanded by our clients.
we have reduced down time an overall production cost.
Our Quality experts have evolved to inspect and train production team to high quality consciousness
that is essential for long term client relationship.
We have a capacious storage with moisture control mechanism to prevent any chemical , alkaline corrosion.
Safe packaging and timely delivery is our hallmark.
We are the manufacturers of Septic Tank in China.
Our Septic Tank is finely fabricated for an anaerobic digestion. Herein, bacteria treat waste under favorable conditions.
This process safeguards accumulation of sludge as well as suspended solids that pass through the system without treatment.
the precision-engineered design of inlet-outlet short circuit of unpurified water that is prevented to make sure long retention time for perfect treatment.
Consequently,
the waste is free from all sorts of solid which can clog up the pipe lines.
Components
·
No. of Chambers : Three (which gives more solid removal, performs the dual role of grease trap and settling tank)
·
Tee Type Baffle inlet & outlet
·
MOC : Fiberglass Reinforced Plastic(FRP)
·
Horizontal Cyndrical Type
·
Internal Rough Surface helps bacteria grow faster
·
2 manholes of size dia 600mm
FRP TANK SPECIFICATION FOR EXPORT:
The volume from 1m3/piece to 26 m3/piece

Advantage of Anaerobic Septic Tank
·
Reduces Biochemical Oxygen Demand (BOD) levels
·
up to 70 % which means least health hazards
·
Removes Total Suspended Solids (TSS) up to 80%
·
Retention period 20-24 hours
·
Suitable with all soil conditions
·
Do not require immediate refilling
·
Easily sustains all types of Toilet Chemicals
·
Properly sealed mid-seam
·
No imperfection in lay-up
·
No Cracks and dings from handling